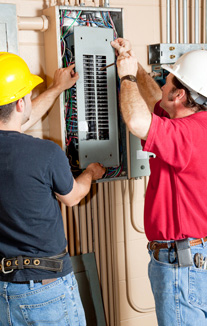 Service Electric Northwest Inc. offers fast, reliable, and courteous services to many of the businesses and homes throughout Portland Oregon and the surrounding areas.
We have over 42 years of combined experience in the electrical field and 20+ years operating electrical contracting businesses.
The quality of our work and our great customer service has given us a solid reputation as a trusted and respected electrical contractor. We know that our success is determined by our performance.
We hire only skilled, licensed electricians who enjoy their trade and take pride in the quality of their work. Our electricians are trained professionals fully equipped to ensure the utmost safety of your electrical system within your home or business. Service Electric Northwest Inc. is fully licensed, bonded, insured and ready to help with your electrical problem.
Whether you want to relocate a single electrical outlet, install a standby generator, remodel a kitchen or bathroom, renovate your office building, and ceiling fans to your warehouse, we have the skills and experience to help you.
Contact Service Electric Northwest today for a free quote on your next electrical project.